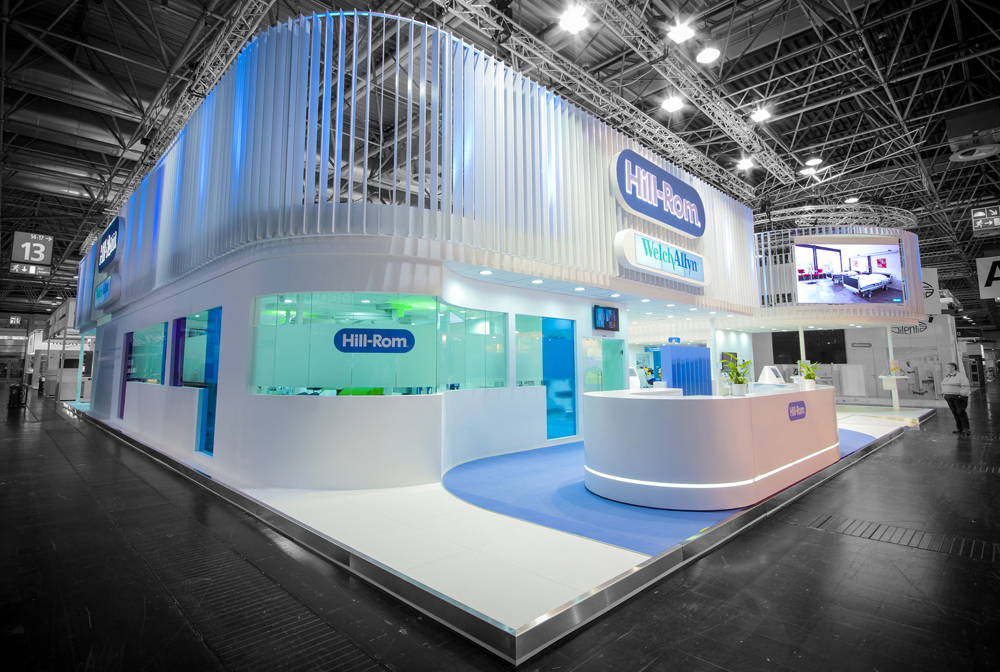 DSA success at Medica
Following seven months preparation and extensive work in bringing together seven global brands under one umbrella, DSA were extremely proud to achieve an outstanding result for leading providers of medical technology, Hill-Rom at Medica 2015.
Held across four days in November, Medica attracted more than 130,000 specialist visitors from 120 different countries, 2,000 more than its previous year.  The portion of international visitors was over 50%, predominantly including the USA, Latin America and Iran.  For the first time, the complete spectrum of innovations for out-patient and clinical care was offered by almost 5,000 exhibitors from 70 nations to experts from hospitals, practices, laboratories and the retail sector.
Seven of the DSA team were in attendance at different stages throughout the two week build prior to Medica, working tremendously hard to ensure that the Hill-Rom stand was delivered on time, and of course, to the highest standard.
Take a look at the timelapse below to see the build in it's entirety;
Emma Lawrence, Managing Director at DSA said;
"We worked very closely with Hill-Rom to plan this project across several months and to finally see our design realised was a truly outstanding moment for us all.  From its conception, this stand was hugely ambitious but the expert skill and professionalism of our team at DSA and the carefully selected partners we work alongside has absolutely delivered everything we set out to achieve and undeniably exceeded expectation.  I am extremely proud of the entire team and am hugely excited to further develop our working relationship with Hill-Rom and its associated brands".
The collaboration ahead of, and during Medica, has proved extremely successful and DSA have been delighted to support Hill-Rom in achieving their event objectives in 2015.
Insights