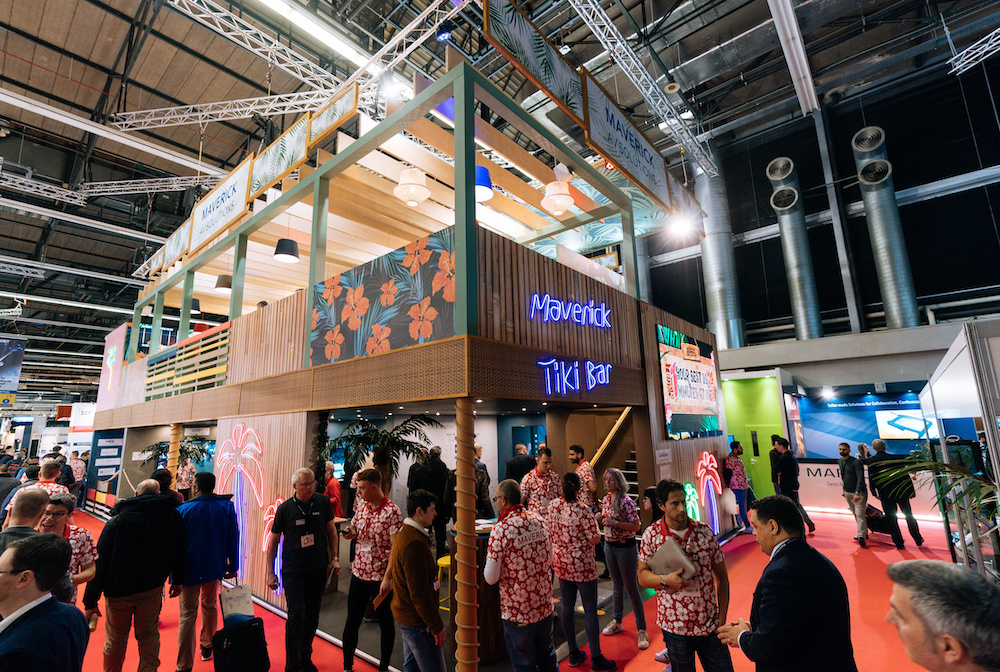 Making an impact
If you're an exhibitor at a B2B trade show, making an impact is probably at the top of your agenda.  But when your key competitors are in the same exhibition hall, this can be a challenge.  We have combined our many years of experience at global trade shows to create 9 simple but effective tips to help you make an impact at your next exhibition.
1. Be memorable
Research has shown that we make an initial visual impression in about one tenth of a second and that first impression stays with us throughout all future interaction – whether it is an impression of a person, a product or a business.  Use this one-tenth of a second to show people who you are and why they should care.  For Maverick, we reimagined their exhibition space as a Tiki Bar, making it the most memorable experience in the hall (read more about that here). Whether it's interactive technology, activities that engage with your audience or an exceptional stand, make it memorable.
2. Launch your latest product
Those attending technology trade shows are often there to discover what's next in their world; many will expect to see new product announcements and product launches so make sure you don't disappoint!  You may decide to make the announcement at the show – keeping it a secret from the competition.  Or you might want to "leak" the news earlier to get buyers curious and delay any decisions in favour of your competitors – this is a great tactic if you are about to launch a new product or service that is a leap forward in your industry.  Whatever your strategy, it's a good idea to build interest via social media prior to the show.  Arrange for press announcements and plan to hold VIP meetings / seminars / live demonstrations on your stand.
3. Know your audience
The audience at any trade show will be made up of a range of people – industry experts, press, competitors, hot prospects, people gathering information, your customers, your competitors' customers and your competitors' hot prospects.  Each type of person will be looking for something slightly different, so make sure your stand staff are aware and have the appropriate information available for each type – competitive questioning, product information, company information etc.  If your sales staff are already engaged in sales cycles, then their prospects may well be attending the show.  They should know who plans to attend and be on the look-out for them anyway, but you should have a central list so that other members of the stand team are aware to look out for particular people.  Technology buyers often use trade shows to assess potential solutions at an early stage in their buying process.  If they are serious, then the chances are that they've already had a look at your website and possibly followed you on social media.  If you have a marketing automation tool, investigate how quickly your stand staff can access that information on the stand to create a more personal approach to visitors.  After the show, cross reference the details of each stand visitor to the information in your marketing system, and use that to prioritise follow-up.
4. Take the right people with you
Technology buyers demand a wealth of information at every stage of their buying journey, and a trade show is a big part of that.  To meet the expectations of key decision makers, every member of your team have to be well rehearsed in all the facts, figures and statistics relevant to your product.  However, if you really want to impress them, consider having engineers or software developers who worked on the product at the tradeshow to address any kind of enquiry – always with the guidance of the sales people, of course!  Anyone truly interested in your brand will appreciate having all their questions answered quickly by the most appropriate person.  This is also an invaluable opportunity to build trust and appeal to a range of personalities.
5. Stand design
It goes without saying that it is vital to ensure that your stand design has an immediate and lasting impact on visitors.  Create something different that people will talk about to others at the show and to their colleagues when they return to their office.  Generate interest with a visual hook and ensure that all the information displayed on your stand is easy to digest, visually appealing and reflects your brand.  If you are launching a new product and/or have a demonstration area, make sure it allows for others to get an enticing glimpse from a distance.  Once a crowd is gathered, you're likely to attract even more attention as other attendees will want to find out why so many people are visiting your stand.
6. Integrate technology
In today's digital world, exhibitors are automatically under scrutiny for how successfully you utilise digital tools to engage with prospects.  To ensure your stand is the one receiving all the attention, use interactive devices that go further than standard customer engagement forms on tablets, monitors and laptops around the stand.  Your entire stand can be interactive, so think about incorporating informative, three-dimensional, motion graphics into the walls, floors and screens that make up your booth.  These act as a rolling focal points; directly interacting with visitors already on your stand and attracting those outside of it.  If the show organisers use visitors badges affixed with RFID tags, make sure you gather the information and use it to distinguish the interests of attendees, improve their event experience and create targeted follow-up plans.  For one recent event, we created an area where people could select from a range of digital brochures,  it gave visitors the ability to absorb information from the stand without feeling pressured to ask a person for information.  All the relevant attendee details were captured for follow-up post-event.
7. Offers and competitions
There is nothing like a little competition to get people excited.  Creating a contest to attract attendees to your booth area is a great way for people to learn about your brand in advance and be more excited before they walk into your space.  Offers and incentives to view your latest products or service offerings will boost interest and visitor engagement.
If you are running an offer or contest, you should also inspire social interaction.  Encourage people to start spreading news around your event and reward them for their activities and posts.  Ensure that the offer relates to your overall messaging.  If you have a product sample you can give out, reward people with that.  If you provide a service, give people a chance to try it out for free.  If possible, try giving out something unique that other companies cannot or don't offer.
8. Social media at the show
Use social media during trade shows to give attendees a compelling and immediate reason to visit your stand.  If appropriate, generate interest by providing social media followers with a hashtag or digital coupon they can use to take advantage of an event-only, time-sensitive offer, such as "visit us in the next 30 minutes to receive 10% off your order".  Keep tweeting throughout the show to capitalise on this communication and update attendees about upcoming presentations, special sessions or demos at your booth.  Making a lasting impression at a trade show is about delivering on the overall experience, including stand design, information delivered, and attitude/experience of employees working on the stand.
9. Follow up
Prompt follow up is vital to lead conversion and relationship building. After meeting a customer or prospect, cross reference the details of each stand visitor to the information in your CRM to make your follow up personal and relevant. Most CRMs now offer mobile apps so you can reference and update details in real time. Recent research suggested just 2% of exhibitors follow up with customers or prospects met at trade shows on the same day. If you can design your processes to support this, you're sure to stay front of mind.
Get In Touch