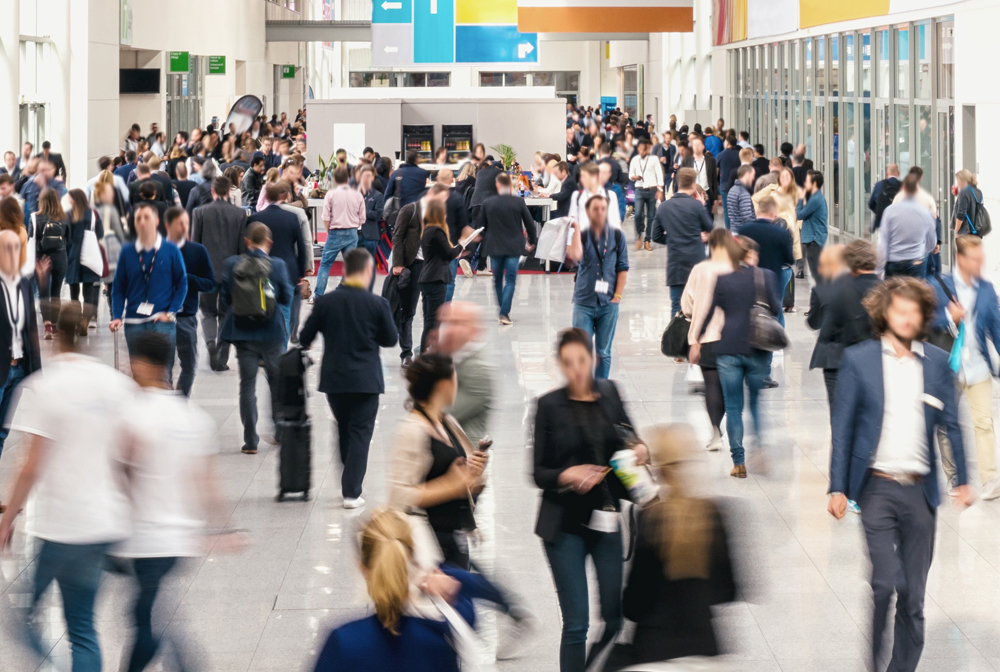 The fundamentals of event lead generation
While marketing at exhibitions is one of the most valuable channels for generating business, we all know that it can be costly, and so you don't want to jump into it without knowing you can get your money's worth.  Mapping out your strategy from the beginning will ensure your company benefits as much as possible from any event.
Here are 7 steps which we feel can help you to improve results and boost return on investment when planning your next exhibition.
1. Set objectives
Before you start planning the shows you are going to attend over the year ahead, you need to define the reasons behind why you are exhibiting to begin with in a set of clearly defined objectives.  Some of these might include:
To build awareness of the brand
To strengthen relationships with existing customers
To launch a new product or service
To generate new leads/make sales
2. Pick the right event
Now that you have defined your business objectives, you can make an informed decision on which exhibitions to attend.  It is not uncommon for exhibitors to remain loyal to their favourite shows out of habit, so it's vital to establish whether the event is the right one for you on an annual basis.
Profile the typical visitor to each event, does their buyer persona match your products and services?  How many potential visitors could the exhibition generate?
Set conversion targets based on the value of your products.  Be realistic in your expectations and set perimeters for success; from the lowest acceptable ROI to the best-case scenario.
Once the total potential revenue has been calculated, these parameters can then be used to determine the overall budget for the event.
3. Budget research
Floor space at the event venue will account for a large proportion of your budget.  Once space costs have been confirmed, allocate a budget for stand design, materials and manufacturing, as well as the stand build, deconstruction, transportation and additional expenses.  Establish from the beginning whether the stand will be used for one event only or a programme of shows.
4. Choose an expert design and build partner
Working with a specialist exhibition agency, such as DSA, will help you to reach your business goals within budget.  A professional designer will understand the uses of form, colour, audio and visuals to appeal to the senses, helping to create an emotional connection with your brand.  They'll ensure your branding is clearly visible from every angle to maximise promotion.  Once the final design and costs have been approved, your project will be managed by an expert, to remove the risk of any unexpected surprises and costs commonly associated with in-house stand design and build.
5. Promote your attendance
Your stand may be of interest to a huge audience, all of whom might be willing to do business with you, but if they don't know about your presence before the event, they may not seek you out at when they get there.  It is important therefore to:
Trade publication advertising
Targeted email campaign to potential leads already in your CRM
Social Media: Post in industry specific linked in groups, hashtag the event on twitter, or share videos on Facebook
Promote your attendance on your website and on your company email footers, adding logos available from the event organisers and links directing visitors to register
Send personalised invitations to targeted prospects, to drive traffic to your stand
Incorporate digital media on your stand to display live social feeds throughout the event, to maximise interaction.
6. Capture leads
Make sure you have a process in place for capturing leads on your stand. A significant level of information is required to be able to differentiate prospects in buying mode, from contacts requiring nurturing through marketing. Hand written lead sheets can prove difficult to interpret so we advise that you invest in a technological solution. The most effective lead capture program's sync with your CRM database throughout the event, which enables immediate follow up, tracking and maximised conversion.
7. Follow-up leads
The work doesn't stop when the show ends, there's a lot more to do before you can determine whether your presence at the exhibition was a success.  Immediate follow up demonstrates to prospects that you value their custom, builds trust, enforces brand promotion and provides the opportunity to close the sale before the prospect has time to investigate your competitors.  Best Practices;
Provide the sales team with as much information about each lead that you can.
Collect feedback – What have people been saying about your presence at the event? Have you had any mentions on social media? Were their comments positive or negative?
Having a post-event email campaign prepared prior to the show is a great way to follow up with leads while you are still fresh in their mind.
For further information and advice on how to create a memorable event, elevating your stand from the everyday to the extraordinary, click here to download our free Experiential Marketing e-book.
Get the guide