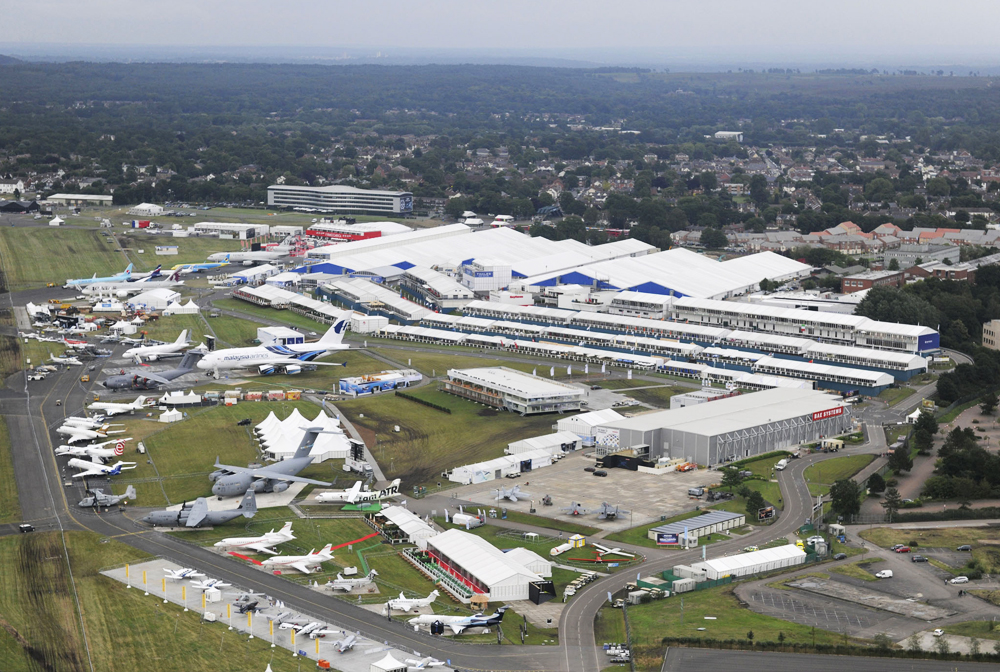 All set for your trip to Farnborough?
We have been supporting clients at Farnborough Airshow for as long as we can remember. This is the most global Farnborough Airshow to date, seeing the largest presence yet from China, with 70 per cent growth in participation since the 2016 show. Meanwhile Japan has increased its presence with a second Pavilion, joining Malaysia, Korea and Indonesia, and underpinning the Airshow's role as a key gateway into the lucrative Asian aerospace market.
If you have ever walked the halls of Farnborough before you will remember the leg aches well! The site is mammoth, with the organisers claiming it's around the size of 78 football pitches. It's important in advance to double check you know exactly where everything is to be kind to your legs if anything else! First things first, download the Interactive Floorplan to plan your route around the site.
1.  Welcome Reception
Farnborough's official reception event takes place on Monday 16th July from 4pm – 6pm and is a great way to round off day one of the show. Held in the newly built Hall 1 facility, the guests include senior industry representatives, international delegations, exhibiting company CEO's, government officials and a VIP keynote speaker. Tickets cost £96+VAT and more information can be found here.
2.  Aerospace 4.0 Zone
A brand new area for the 2018 show, Aerospace 4.0 is a dedicated zone for exhibitors showcasing advanced digital technologies such as Augmented reality, autonomous robots, cyber security, smart sensors, system integration… we could go on. For more details click here.
3.  Delegations Programme
The Farnborough Delegations program is a fantastic opportunity for exhibitors to meet with key decision makers in the industry. Amongst these will be the most senior government officials, airline representatives, military personnel and air force commanders.  If you want to get in front of any of these heavy weights, you will need to keep your eye on your inbox – Farnborough notify you by email when it is time to make your requests. In the meantime, follow this link for more information.
4.  Cargo Village
Like the 2016 show, the 1,000sqm Cargo Village can be found in the Business Aircraft Park (closest access point Gate F). A huge part of this year's show, delegates will be able to join guided tours and watch demos of cargo aircraft (such as 747s and an Antonov) and, for the first time, there will be a dedicated 2-day conference program. Conference passes start at £240 and can be purchased via the Farnborough website.
5.  Live Product Demo Area
Another new spot to check out at the 2018 show is the Live Product Demo area. Located in Hall 3 (close to the delegates lounge) you will find a mock 'Air Force Command Centre' brought to life by a cast of role play actors, live product guided tours and action packed cinematic footage.
6.  FINN Sessions
Operating year-round, Farnborough's own international news network reports on the latest industry news and developments. This year at the show, they are providing a forum to share and discuss the major topics and trends affecting the aerospace industry today and in the future. This will feature thought-provoking talks, panel discussions, seminars and keynote speakers to educate, challenge current perceptions and provide ideas for the future. The Innovation Theatre in Hall 3 will focus on new technologies and innovations in flight while the Insight Theatre in Hall 4 will look at major topics affecting the aerospace agenda today, such as the future of supersonic travel and space tourism to new markets and growth strategies. Click here to take a look at the session schedules.
We will be at Farnborough Airshow with our clients Bodycote and Trimas; if you would like to meet us for a coffee at the event, we'd love to hear from you.
Insights