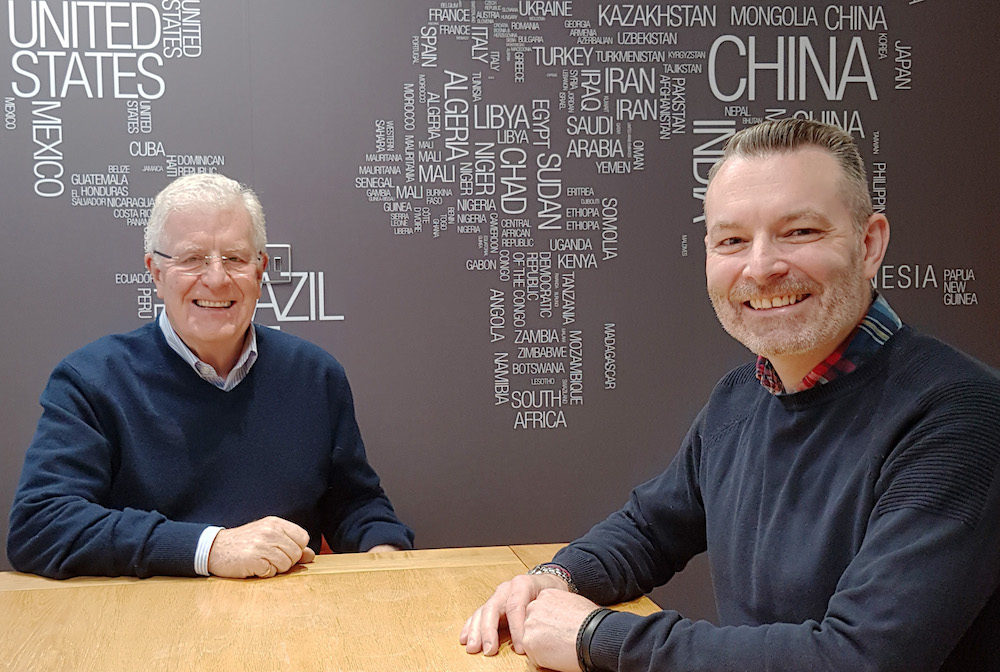 Exhibitions: celebrating success stories
Each year, Global Exhibitions Day offers the exhibition industry an opportunity to celebrate the great work we do and to highlight the positive impact of our sector on jobs, skills, growth and how we do business. At DSA, we've been advocates for exhibitions and events for many years. As we look ahead to our 25th anniversary in February 2020, it's a great time to talk to our directors about DSA's journey and the plans for the future.
Founded in 1995 by Dave Sargent, DSA began life as an exhibition design agency, providing creative and project management services to major brands that exhibited all over the world. More recently, the company has expanded into event management, interactive technology and exhibition marketing services. Now approaching fifty years in the industry, Dave took a step back from the business last year, handing over management to son Alex.
"I'm very proud that we're going to turn 25 next year while still operating as a privately-owned business," says Alex. "We've got a great reputation in the industry and we're fortunate to have grown with a number of long-standing, loyal clients who have worked with us for years. I think a good deal of that longevity is down to our values – honesty, transparency and integrity." Dave agrees. "That's the most important thing. We've always had a can-do attitude and our track record speaks for itself."
That can-do spirit comes from Dave himself. After a carpentry apprenticeship and some time spent working in shop-fitting, television set building and on construction sites, Dave came into the exhibition industry by chance. After taking his tools to an interview with an exhibition contractor, he started work immediately.
"I was sent to Germany to work on a two storey stand for GKN at the Hannover Fair. It was the first time I'd been out of the country, first time on a plane. And I thought to myself, crikey, this is an interesting industry," Dave tells us. "After a few more years in the industry, I had earned a good reputation. I worked all over the world with clients from all sorts of industry sectors. I was a young man from simple beginnings, just learning my trade but I worked hard, and the firm grew considerably. I got to understand the exhibition business and I got a real liking for it."
The sector received a boost in 1976 with the opening of the NEC in Birmingham. Dave took the opportunity to relocate his young family to Stratford-upon-Avon to be closer to this fast-growing industry. After a few successful years running his own business, Dave launched Stratford Displays with two partners.
"It was a proper exhibition design and build company with proper finance in place," he explained. "We started in Warwick with a brand-new factory unit, and that grew into two units fairly quickly, then bigger again. It went from strength to strength, working with well-known brands such as 3M, British Gas and Aston Martin. We entered the British Telecom Business of the Year competition and after winning the local final, came third in the national competition out of 4,000 other entrants. It was amazing and we got a lot of PR mileage out of it. It put us on the map."
"We were very busy, but business was tough. We were growing rapidly and employed 66 people from our factories in Stratford and London, a small office in San Francisco and a production facility in Utrecht. It was 1991,interest rates were 14-15% at the time and the banks were overexposed. We did our best to cut overheads and sell assets, but it wasn't enough. Our bank called in our overdraft and in the midst of the madness, we were hit by a fraudster claiming to help. It was a difficult time."
Armed with a handful of loyal clients and now older and wiser, Dave started again. DSA was born in 1995, but this time the model was different. Now operating as an agency offering design and project management, Dave utilised his American, Dutch and Polish connections for stand building whilst still offering clients a one-stop-shop. The tried and tested formula of can-do spirit and transparent, reliable client service has remained consistently successful.
"I used to do a lot of work with the Turkish Tourist Board. I was introduced to the Minister in charge of the Turkish tourism office in London. One Friday night he called me to say he wanted to meet me at 9am on Monday morning. Instantly we hit it off, got along really well. He told me they'd booked an 800sqm double deck space at World Travel Market, he'd heard great things about us, and he wanted DSA to build his stand. At the time of the meeting, the event was 6 weeks away, but we delivered it and it went really well. We became great friends after that."
Solid client relationships remain central to DSA's ethos. Fierce industry competition and the increasing involvement of transactional procurement processes mean that building relationships has become more challenging over the years, especially when it comes to new business.
Alex explains, "With many pitches, you don't get the opportunity to build client relationships as everything is done online. We're regularly asked to submit our responses by email with the promise of a meeting later in the process, but that face-to-face time often doesn't happen. It's frustrating when you've invested time and money into a pitch, but you don't feel like you've been given a fair shot. It's also a missed opportunity for clients to really get to know the people they'll be working with and drive the best value from their investment."
Alex sees that transactional approach extend to the number of agencies invited to each pitch too. "We understand there are multiple providers out there but including 10 or more agencies in a pitch isn't a responsible way to do business. Especially so when we're expected to pitch for free. As a result, we're very selective about the new business opportunities we accept. We turn down many more pitches than we respond to and our focus means we win a good proportion of those we do take on. Strong creative, good quality solutions, reliable service and our can-do approach are still the things that make the difference for DSA."
So, what next for DSA? Alex is excited about plans for the future and about maintaining the entrepreneurial culture and can-do spirt. "We're focused on growing the business in the coming years, with a continued focus on great creative, quality output and trustworthy service. I'd like to continue to build on the scope of services too. We're probably best known for exhibition stands but our team has delivered some great events, digital solutions and marketing services. And of course, as a service business, we need to nurture our people and preserve the can-do culture. The exhibitions industry offers huge opportunities to learn new skills, to be creative and to travel the world."
With trade shows still a key part of the marketing mix for many businesses, the global exhibitions industry is definitely worth celebrating.
Share Your Brief