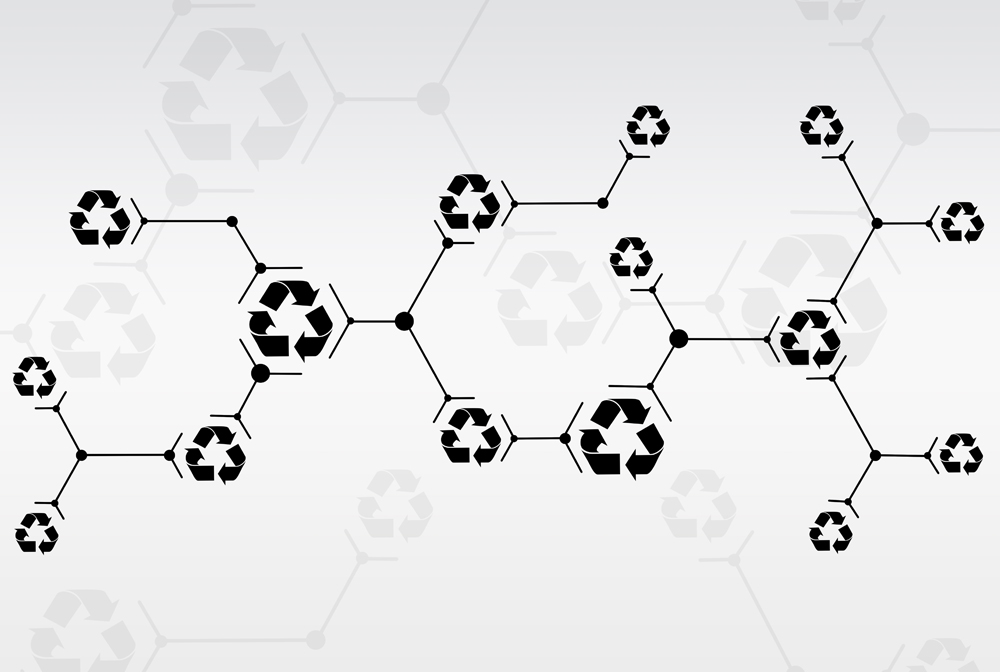 Can the composites industry keep up in an age of 'going green'?
We are excited to be in Paris at JEC World this week to discover first-hand the latest advances and innovations the industry has to offer. In the last blog of the series, we take a look at the latest market trends in the recycling and disposal of main stream composites. A process that has previously proven limited due to technological and economic constraints, is now beginning to demonstrate a rise in activity.  We discuss the research developments which are breaking ground in composite recycling today, outlining how they work and the benefits they provide.

Recyclable thermoset plastics
Established by two PhD students who, in order to showcase their creation of a new class of malleable polymers, entered their University's 'New Venture Challenge', subsequently winning themselves a National Science Foundation grant to establish their own company, 'Mallinda'. They have since created a paradigm shift in polymer science through their product: PliashellTM, an intrinsically-recyclable thermoset plastic that can be moulded, reshaped, welded and repaired at relatively mild temperatures.  Mallinda is leveraging the unique attributes of PliashellTM to enable the efficient manufacture of fully recyclable, advanced composite materials. Thus far, their material is the only malleable self-healing thermoset plastic to have several value-added properties.
How does it work?
The plastic is ground into a powder and reformed into new shapes using pressure and low heat.
What are the benefits?
No excess waste is generated
Low energy consumption
Moulding temperature is well below the threshold of current technologies, reducing overall cost of manufacturing process
Carbon-fibre reinforced composites no longer disposed in landfills
Lifetime of material increased
Potential to revolutionise the production of powder-based composite materials
Thermal decomposition method
Market expectations for the development of carbon fibre recycling technologies are increasing due to a higher demand for the composite across a wider range of applications, including aircraft and automobile parts.  Toray Industries and Toyota Tsusho Corporation recently announced that they are to launch a joint carbon fibre recycling initiative to develop highly efficient manufacturing technology using an innovative and energy-efficient thermal decomposition method.
How does it work?
Carbon fibre is recovered by heating carbon fibre composite materials and thermally decomposing the matrix resins.
What's next?
The companies plan to build a pilot plant and, with an eye towards future commercialisation, the facility will demonstrate energy-efficient recycled carbon fibre manufacturing technologies while promoting the development of new applications for recycled carbon fibre.  Toray and Toyota will leverage their respective expertise to jointly implement carbon fibre recycling initiatives and contribute to the creation of a recycling-oriented society for the entire carbon fibre lifecycle.
Carbon fibre reinforced plastic
The Composite Technology Centre, Germany (a subsidiary of aircraft manufacturer, Airbus) is dedicated to developing new technologies for the production and assembly of carbon-fibre reinforced plastic (CFRP) suitable for aircraft.  Currently, production of recycled carbon fibre exceeds the market demand because too few potential applications using these materials have been investigated up to now.  The CTC is now in the testing stage of a project designed to demonstrate the use of RCF materials in a full-scale aircraft interior sidewall panel. Instead of using continuous glass fibre, they have used short-length carbon fibre, which competes directly in performance.  Full scale demonstration sidewalls are moulded via the conventional 'crushed core' process which is typically used by Boeing and Airbus to produce curved interior panels.
How does it work?
Honeycomb core, typically made from Nomex aramid paper, is crushed down to a predetermined thickness in a large press by heated steel moulds under pressures greater than 10 bar. Processing times are approximately 15 minutes, after which a decorative, wear-resistant film is typically applied.
What are the benefits?
The RCF Sidewalls achieved a 22% weight reduction
Reduced moulding time
Reduced cost in post-finishing
Rids of the usual dimpling effect which occurs where the laminate bridges the honeycomb cells in a conventional sidewall production.
What's next?
The sidewalls are currently undergoing mechanical properties testing against conventional sidewalls in categories that include noise abatement and thermal performance. The company notably commented, "The entire composite industry must start to change from a linear supply chain to a circular supply chain and we are now one step closer to a circular lifecycle loop for CFRP materials".
Insights